Get your swimming pool crystal clean again with an acid wash from Pure Water Pool Services serving you in the Las Vegas and Henderson, Nevada area. Sometimes it takes a lot more than a little elbow grease to get plaster pool walls clean of stains and chemical buildup.
For deep cleaning to get serious stains off, a professional acid wash with muriatic acid can be the fix and facelift you're looking for.
Reasons To Schedule An Acid Wash
You have deep stains that a chlorine bath can't remove.
You need to remove serious stains from hard water or algae.
You can see rust stains, magnesium (purple) stains, or calcium deposits.
You need to restore pool surfaces: plaster or tile.
You have black or green algae that can't be controlled.
Your pool looks like it was taken over by zombies.
Is It Time For A Deeper Clean?
If you cannot see the bottom of the pool or are tired of looking at the dirt or chemical stains, then consider the deep clean an acid wash treatment can provide. We can help you restore your hot tub or swimming pool for many more years of fun in the sun.
Don't Try This At Home
Acid washes are not performed without reason – and it's not a service to be taken lightly. The reason it's a heavy hitter is that acid removes serious pool surface staining by dissolving a thin layer of the debris or material. If performed incorrectly, unnecessarily, or too often, it can damage your pool surfaces. We are pros and have all of the protective gear and knowledge needed to get it done right.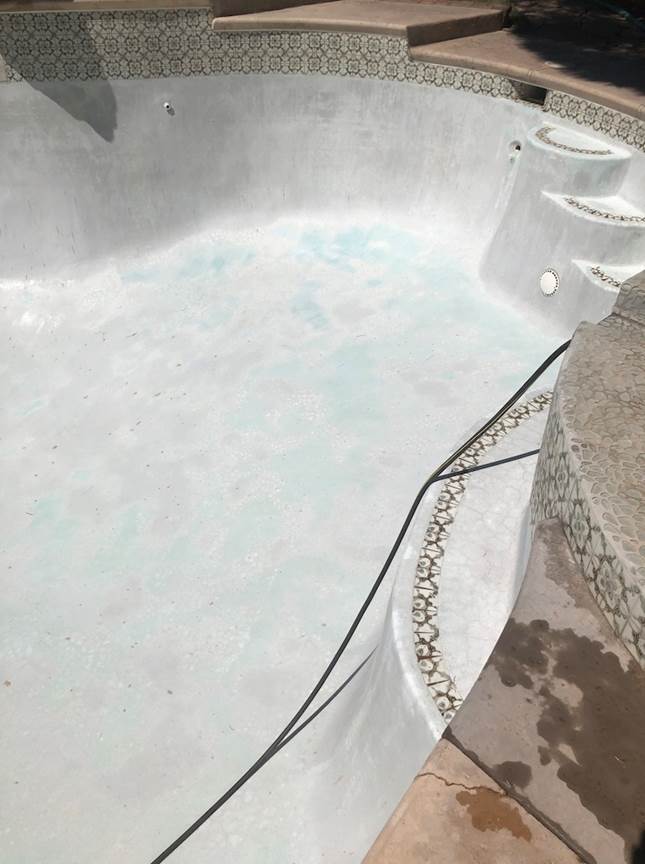 How Does A Pool Acid Wash Work?
Performing a pool acid wash requires a lot of time and expertise to get the job done safely and correctly. Acid wash cleaning for your swimming pool entails completely draining and scrubbing every surface of the pool.
The strong acids used for this type of thorough pool cleaning require special safety measures. Why spend your free hours in the hot sun handling dangerous chemicals when you can leave the hard work to our experienced and trained pool cleaners?
When Does A Pool Need An Acid Wash?
The idea behind a pool acid wash is to strip away the damaged and dirty outer layer surface. Although rare and easy to avoid with proper maintenance, this service can be done up to once every year.
Whether your pool's exterior surface is plaster or pebble-tec, the chemicals we use are abrasive enough to remove dirt and expose a clean layer that makes your pool look brand new all over again.
Las Vegas Pool Acid Washing Service
If you're not sure whether your pool could use an acid washing or to schedule service, then contact us at today Pure Water Pool Services of Las Vegas and Henderson. Once we get your swimming pool looking like new again, we can help you keep it that way with regular cleaning, maintenance, and repair services. We look forward to helping you.